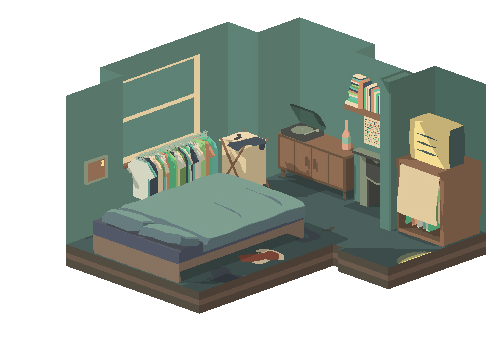 Bo and Ao are graduating university and preparing to leave the flat they've lived in together for a year. Thanks to visa limitations, Ao is forced to return to Japan, leaving Bo in England. Disillusioned by post-educational life and shoved aside by a government who doesn't want them there, both are trying to come to terms with their uncertain futures. And deep under their South London flat, something grows...
"No Longer Home captures the intense connections we sometimes form with places, and how endings can make everything feel more immediate and significant."
‍
— Kotaku

"[…] No Longer Home manages to convey such a genuine depiction of the fears and worries young people have in this big scary world that it's hard not to feel like it's directed right at you.;
‍
— NME

"A love letter to the transient state, No Longer Home exists to frame a very specific experience that has haunted many people in the course of their lives."
‍
— KeenGamer

No Longer Home is a semi-auto-biographical point and click game, set in a magical realist world. Wander through an intimate flat and examine the everyday belongings of Bo and Ao. Have BBQs, play video games, and stay up late just talking in bed. Follow the day to day activities and conversations of two queer, non-binary students and their friends. Get to know Lu, the multi-eyed, animal-like new flatmate.
Subscribe to our Mailing List
Soundtrack
An arranged blend of synthetic and analog ambiences and sounds, with instrumental embellishments guiding you between spaces within the flat; growing through animated sequences and vignettes.

The official soundtrack to No Longer Home is composed and produced by Eli Rainsberry (A Monster's Expedition, Bird Alone, Wilmot's Warehouse), with contributions from session musician Derek Daley, and composer for the prequel Friary Road, Paws Menu.